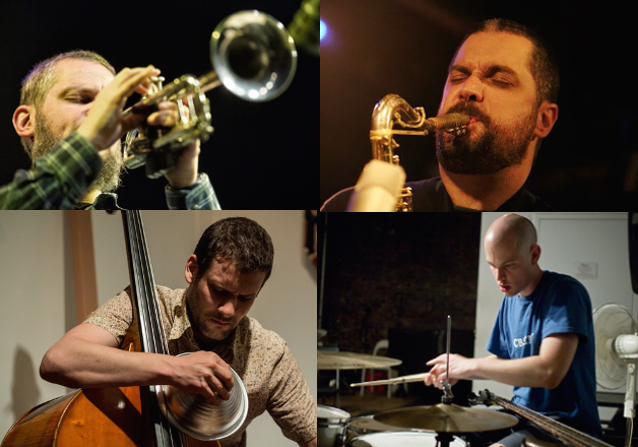 Nate Wooley - trumpet
Dave Rempis - saxophones
Pascal Niggenkemper - bass
Chris Corsano - drums

 
ABOUT
Having crossed paths around the world many times over the years, Nate Wooley and Dave Rempis finally realized their long-time intention of forming a band together in the winter of 2014, with a collaborative lineup that can only be described as stellar. Featuring some of the leading lights of both the New York and Chicago improvised music scenes, the four members of this quartet, all internationally acclaimed players in their own right, found a common language as a unit right from the start. Their eponymous debut recording From Wolves To Whales was made in the studio following three concerts in Manhattan and Brooklyn in February of 2014, and the inventive and a-typical flow of their improvisations shows a band operating at a higher level of creativity from the get-go. This document came out on Aerophonic Records in 2015, and showcases the remarkably broad stylistic range the band has tackled, spanning from microcosmic sound pallets to passages bounding with unbridled energy. After another handful of concerts in Brooklyn in the summer of 2016, the band did their first full tour of Europe in November of 2017.
LISTEN
PRESS
"Fully improvised performances can be thrilling, unforgettable experiences to witness in the flesh, but it's much harder for recordings that use no preconceived ideas or tunes to bring a similar kind of thrill to the home listener. It takes special improvisers to pull that off, players who can thrive in so-called non-idiomatic settings but who don't reject their roots in jazz or other styles. From Wolves To Whales not only achieves that quality, but might be the finest free improv session I've heard in a year or two. Each member of the quartet has all the autonomy in the world, but they work marvelously together, shaping a truly collective endeavor." -Peter Margasak, Downbeat
"Combining talent from New York and Chicago improvised music scenes, From Wolves To Whales offers a cutting-edge timbral exchange interspersed with unreconstructed free jazz hollers. While that summary calls to mind the expected characteristics of main protagonists trumpeter Nate Wooley and alto saxophonist Dave Rempis, respectively, they each prove equally adept on the other's supposed turf. Add in bassist Pascal Niggenkemper and drummer Chris Corsano and you have a quartet equipped for excursions across whatever terrain takes their fancy. All pay keen attention to nuance and detail, distinguishing this program of five improvised pieces." -John Sharpe, NYC Jazz Record
"From Wolves To Whales takes its cues from the minimalist improvisation styling of Nate Wooley's projects including his Seven Storey Mountain recordings and work with the likes of Evan Parker and Paul Lytton. His growling chattering notes open "Slake" accompanied by metal tinted drumming of Corsano and the darting pop-ups of Rempis' alto saxophone. The hushed sounds belie the intensity of the music. What might be mistaken for minimalism, isn't. This quartet is content to burn a low flame, one that is scalding hot." -Mark Corroto, AllAboutJazz
"Trumpeter Nate Wooley leaves no part of his instrument's territory unexplored, utilising extended techniques and feedback to transform the horn from its traditional role into a far more alchemical and unclassifiable tool... The fully improvisatory yet traditionally rooted feel of the music has a lot in common with the work of Other Dimensions In Music. There's a path in for more conservative free jazz listeners, but plenty of wilderness to get lost in, too." -Phil Freeman, The Wire
Heavy-duty improvisers, saxophonist Dave Rempis and trumpeter Nate Wooley comprise a union of Chicago and New York artists who share a similar vision. Thus, From Wolves To Whales marks the quartet's debut album. As anticipated, the musicians delve deep into the outside schema of jazz amid a largely aggressive mode of attack. With hustling cadences, energized soloing and all the customary trimmings, the band acutely morphs the improv platform with semi-structured song-forms. And while the free jazz connotations are intact, there's much more happening under the covers.
-Glenn Astarita, AllAboutJazz